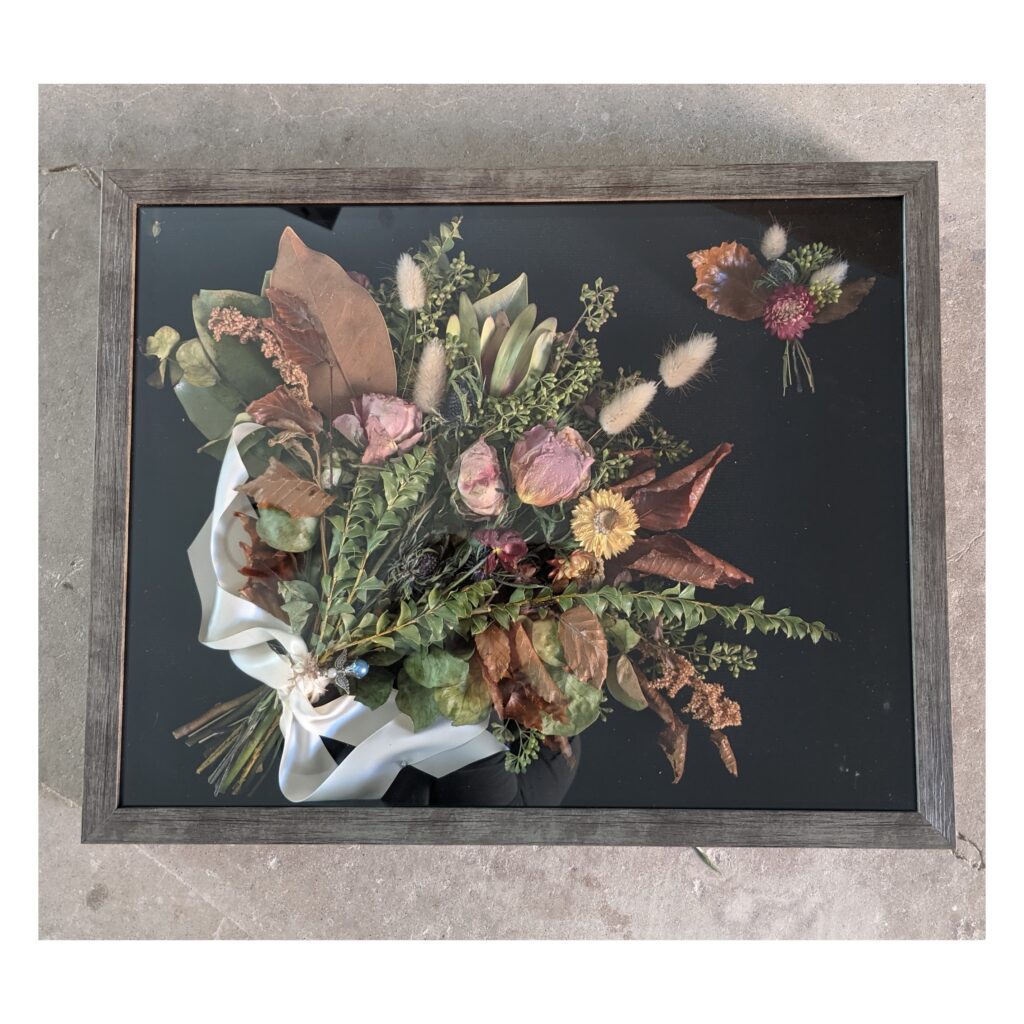 Begin your search for wedding bouquet preservation with New Mexico Flower Company. We are excited to announce the addition of our floral bouquet preservation services and partnership with K Potter Fine Art. At NM Flower Company we have many ways to create a special keepsake from your wedding flowers. Keep reading for more details. Then Request more information about bouquet preservation online.
Next, ask about floral bouquet preservation options when you request a quote for wedding flowers from a locally owned New Mexico flower shop. Because not all flowers can be preserved or dried, it is important to make this request early in the planning process. Please note our bouquet preservation services apply to bouquets purchased from NM Flower Company. Have questions? Contact our offices to speak with a floral professional today!
Partners with K Potter Fine Art
Consiquently, New Mexico Flower Company has partnered with K Potter Fine Art to offer our customers a one of a kind option to preserve their wedding bouquet in paint strokes. Now you can have fine art made of your most special day! What a grand way to keep the memories of your wedding day alive for a lifetime. These incredible paintings make wonderful Anniversary gifts too! Get started by clicking here.
Additionally, Kay is a classically trained and professional artist. So you can rest easy knowing that your commissioned artwork will be absolutely stunning! Ask about special offers Kay has available just for New Mexico Flower Company clients. Then check out her wonderful artwork in our featured Blue Desk Art greeting cards. Now available as an upgrade with all NM Flower Company flower orders!
Remember, New Mexico Flower Company is here for all your floral needs. From wedding bouquets, Anniversary flowers, and Birthdays too! With our selection of high quality and seasonal flowers like peonies, roses, orchids, you can trust your custom floral design will be made with care. View our floral portfolio and Pinterest for wedding flower inspiration and more.
Finally, we want to remind you that each bouquet preservation project will be evaluated on a case by case basis. Recommendations will be made as to how to proceed with the preservation process based on the evaluation. Please contact New Mexico Flower Company for more information about wedding bouquet preservation and our partnership with K Potter Fine Art.